On becoming a "Roads Scholar": Scenic vistas and hidden travel gems in Washington State, from the Olympic Peninsula to Lake Chelan, provide inspiration and songwriting ideas for touring musicians. Go Northwest!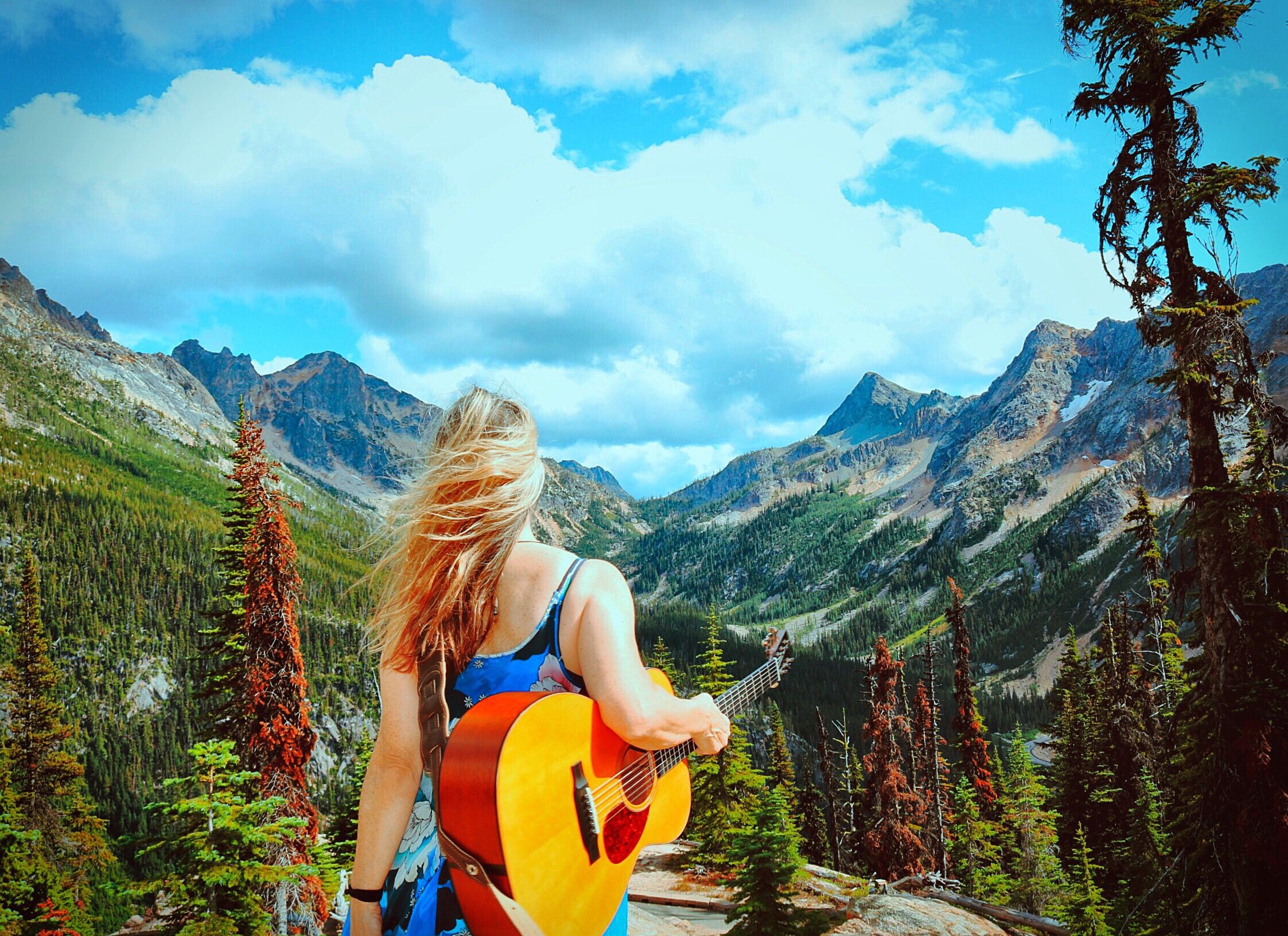 Laurie Raveis, Collings Guitar (Julian Lage OM1), Washington Pass overlook
August has always been one of our favorite months in NW Washington. Warm days, cool nights, bright blue skies and a hint of crispness in the air that says autumn is just around the corner. A good time to get out on the road to enjoy the beauty of the open road, wide open mountain passes, and the natural wonders that surround us! 
Our performances and travels have taken us to the SE and NW corners of the state as we visited the Tri-Cities of Kennewick, Pasco and Richland; followed by a trip over Whidbey Island to the Olympic Peninsula, Sequim and Port Townsend - all parts of the NW Washington "banana belt" which is tucked into the rain shadow of the Olympic Mountains. 
As we journeyed to and from, we were constantly reminded of how water has been a dominant factor in both the creation and development of this part of the world. The glacier sculpted mountains and valleys; the Columbia, Skagit and Yakima rivers, and the dams that have provided hydroelectric power and irrigation which have been so transformative for agriculture and commerce combine to create a geographical saga that plays out before your eyes as you travel across the state. Cadillac Desert, a book written in 1986 by Marc Reisner and updated in 1993, offers a gripping, edge of your seat expose about land development and water rights/policy in the western United States. Both Laurie and I have found it to be both mesmerizing and informative, and we recommend it highly. To learn more, click here: 
https://en.wikipedia.org/wiki/Cadillac_Desert 
Some special highlights from the road include: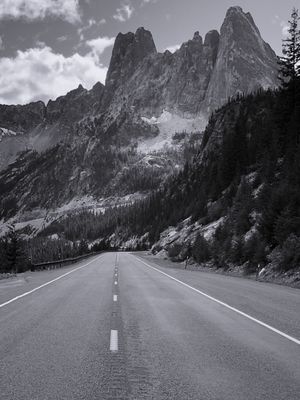 Liberty Bell Mountain and Early Winter Spires photo by Dennis, inspired by Ansel Adams
(1) The Washington Pass overlook on Highway 20 - located at an elevation of 5,477 feet and situated just east of the Pacific Crest trail (Rainy Pass), Washington Pass marks the transition between the western and central areas of the state. Seasonally closed each winter, Highway 20 offers an intimate glimpse into the heart of the North Cascades and the Washington Pass overlook captures the dramatic variety and beauty of the region in a manner reminiscent of the Yosemite Valley. For more information click here: 
https://www.tripadvisor.com/Attraction_Review-g143046-d145053-Reviews-Washington_Pass_Overlook-North_Cascades_National_Park_Washington.html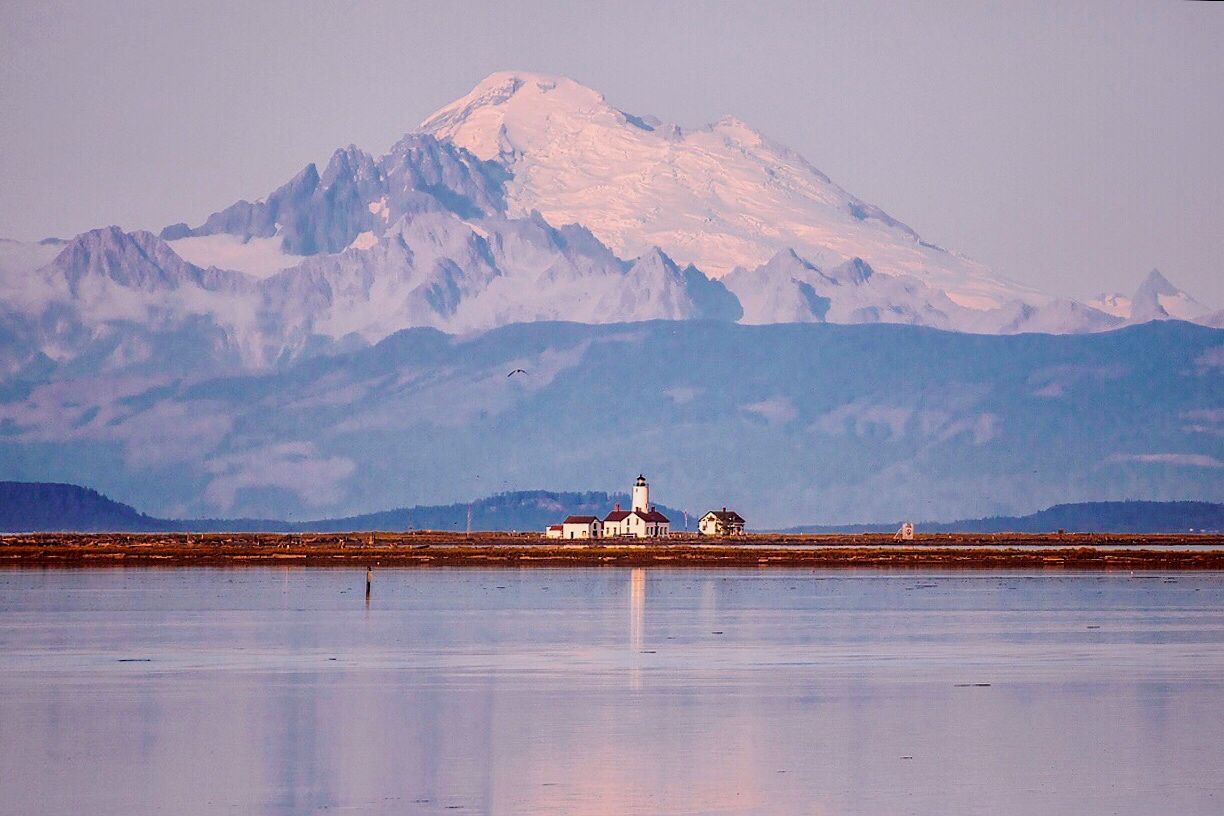 Dungeness Spit with Ligthhouse and Mount Baker
(2) Dungeness Spit, at 6.8 miles in length, is the longest natural sand spit in the United States. Located just north of Sequin on the Olympic Peninsula, and offering dramatic views across Puget Sound towards Mt. Baker, Dungeness Spit continues to grow at an average rate of 13 feet per year and features a volunteer lighthouse which is available for temporary residence as a voluntary "keeper." (And a perfect location for a potential songwriting retreat!) For more information click here: 
http://newdungenesslighthouse.com/keeper-program/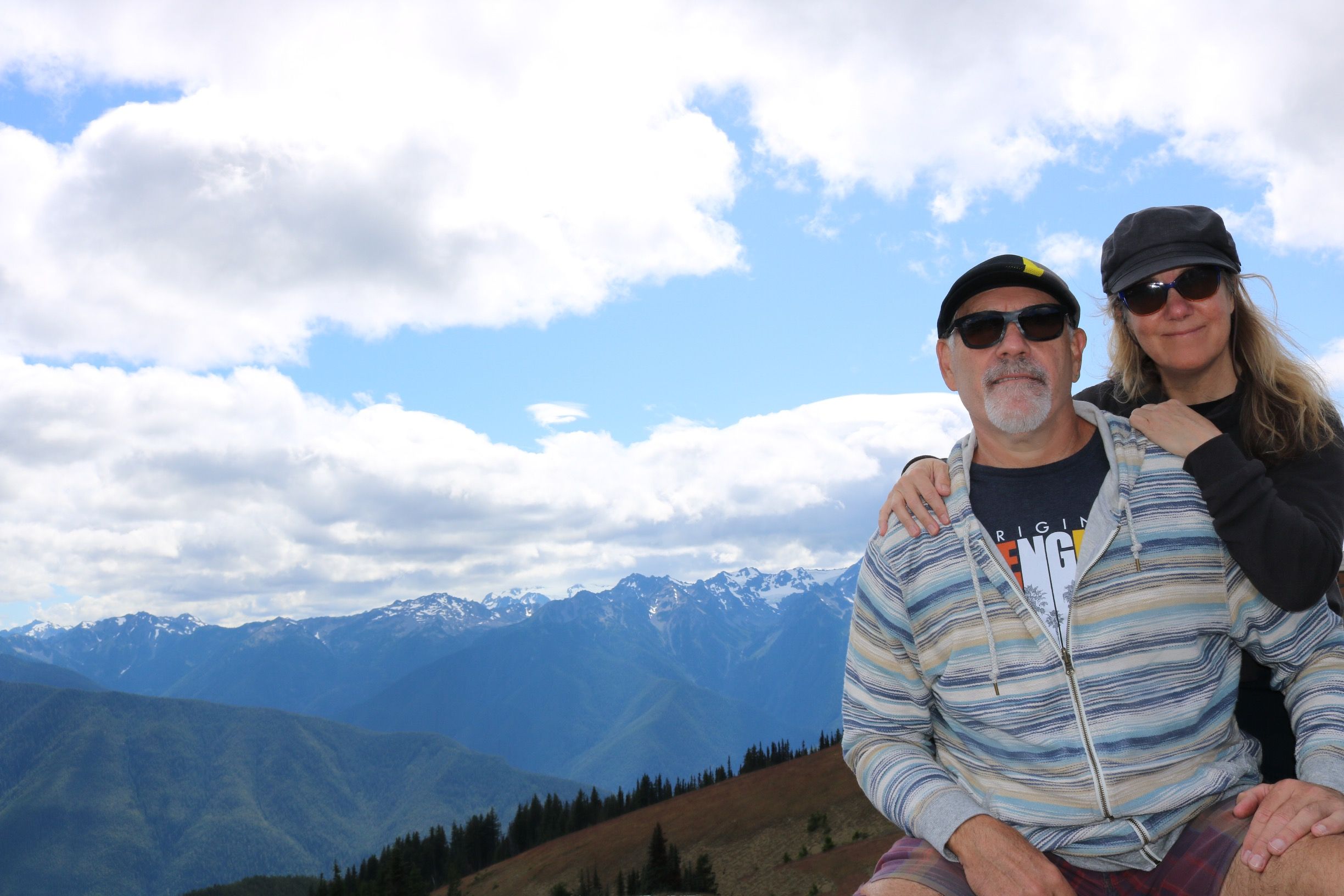 Dennis Kole, Laurie Raveis, Hurricane Ridge
(3) Hurricane Ridge is a classic viewpoint in the heart of the Olympics which is only an 18 mile drive from nearby Port Angeles. The Park Service is currently engaged in a program to reduce/eliminate the population of mountain goats which reside in the Park and in nearby Forest Service lands. While mountain goats are native in parts of the Cascades, including Mt. Baker, they were not native to the Olympic Mountains and an original population of approximately 12 goats were introduced by a group of sportsman in the 1920's. Without natural predators, the population increased to an all time high of approximately 1000 goats and, although currently reduced from that high level, the goats have proved to be problematic as their need for salt and the lack of natural sources such as salt licks have caused them to develop an affinity for sweaty clothing and other human based sources of salt. This has resulted in aggressive goat/human interaction which has, on rare occasion, proved fatal to visitors to the Park. The current control program involves helicopter airlifting of some of the goats to relocate them to parts of the Cascades where they are native, combined with an attempt to exterminate the remainder of the population in the Olympic National Park. For more information about Hurricane Ridge, and to see what goats look like when they are dangling from helicopters click here: 
https://www.nps.gov/olym/planyourvisit/mountain-goat-capture-and-translocation.htm
(4) Port Townsend was a great stopover on our trip to the Olympics. The city has a small town charm and a countercultural sensibility blended with classic Victorian homes dating from the late 1800's and a vibrant artistic and musical community. While there we had the unexpected and serendipitous treat of stumbling upon Gallery Andrew Martin, a collection of works by mid-20th century artist/sculptor Andrew Martin, housed in an 1889 Victorian mansion. To learn more and to view examples of his work click here: 
https://joelrogers.photoshelter.com/image/I0000Goppny6MxgY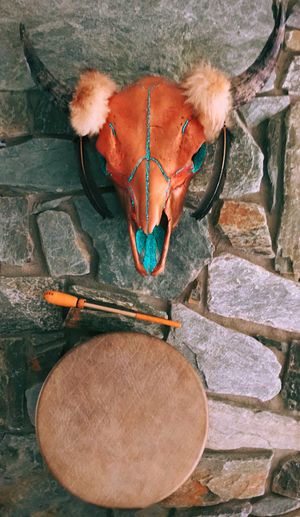 Buffalo Skin Drum, Port Townsend and Skull, Montana
While in Port Townsend we also visited the local Farmer's Market, where we found a wonderful handmade buffalo skin drum that spoke deeply to us. What can I say? It followed us home and is now a part of our family which includes this magnificent Buffalo skull from a prior visit to Whitefish Montana. (Finding our rhythm on the open road!)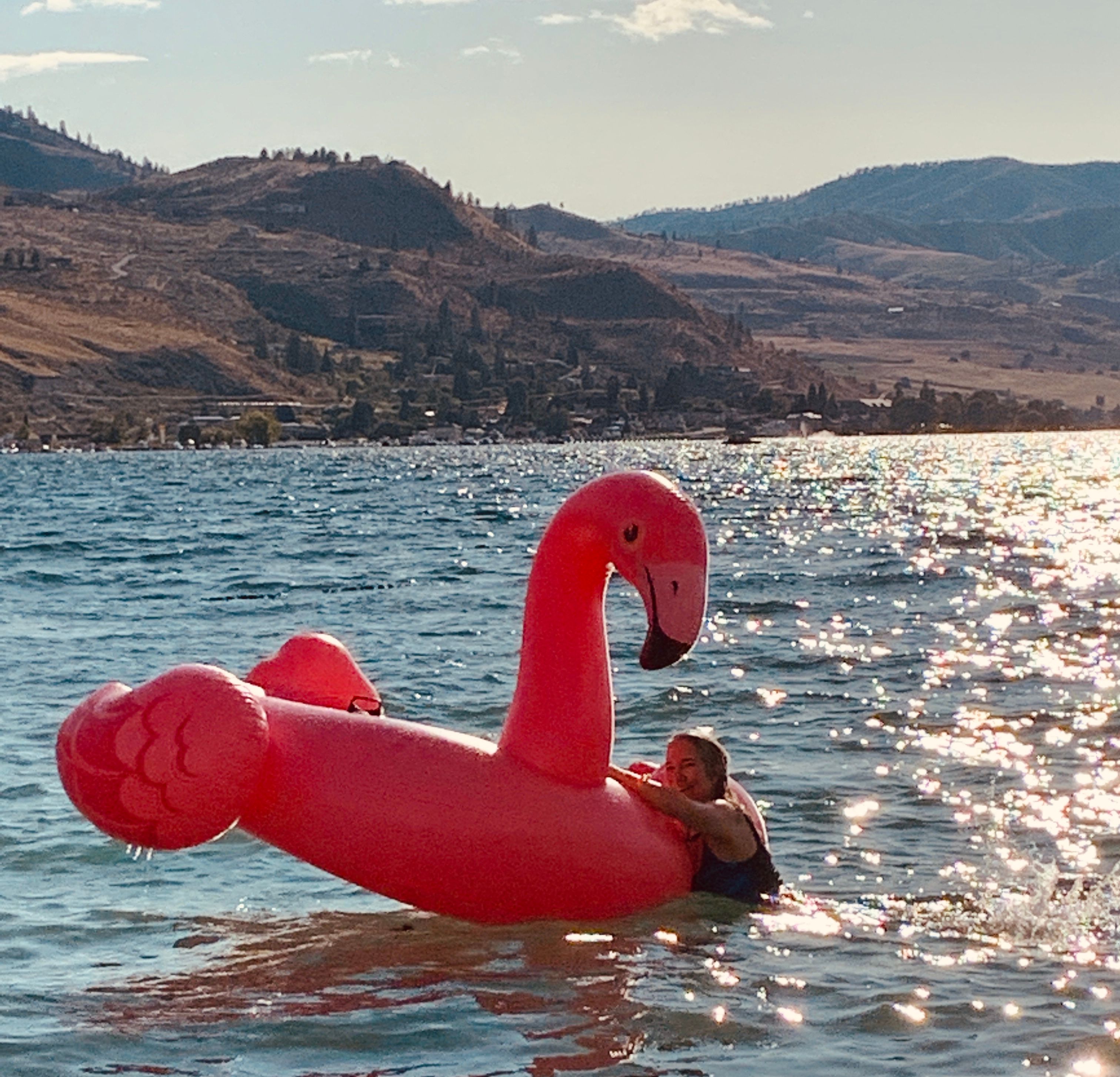 Laurie Raveis, Flamenco Flamingo, Lake Chelan
(5) Lake Chelan is a 50.5 mile long lake in north central Washington that is fed by the Stehekin river and which also closely abuts the Columbia river. The lake is the largest natural lake in the state of Washington and, at almost 1500 feet deep, is the 3rd deepest lake in the United States and the 26th deepest lake in the world. Lake Chelan sits in the rain shadow of the Cascades so it, like Sequin, has more sunny days than you would normally expect in the maritime NW. At the head of the lake is Stehekin, a small full time community of approximately 90 residents that is only reachable by boat, airplane, or hiking. The Stehekin elementary school (K-8) has a current population of 6 students served by one teacher. "Stehekin" is based on the Native American Salishan word meaning "the way through," and ambitious hikers can reach Stehekin from the West side of the mountains by starting at Cascade Pass near Marblemount and hiking 23 miles across the mountains. For more information about Lake Chelan click here: 
https://en.wikipedia.org/wiki/Lake_Chelan 
Travel isn't all about scenery, and we have enjoyed the opportunity to reconnect with old friends, and to meet new ones, as we have performed in Everett, Richland, Chimacum, Bothell, Chelan and Conway.  
We are looking forward to our upcoming trip to Nashville in mid-September for AMERICANAFEST and for some new recording projects.  
Exciting things are on the horizon so be sure to stay tuned in so that you will be the first to know when news happens! If you enjoyed reading this, please consider Signing up for our monthly fans and friends NEWSLETTER HERE