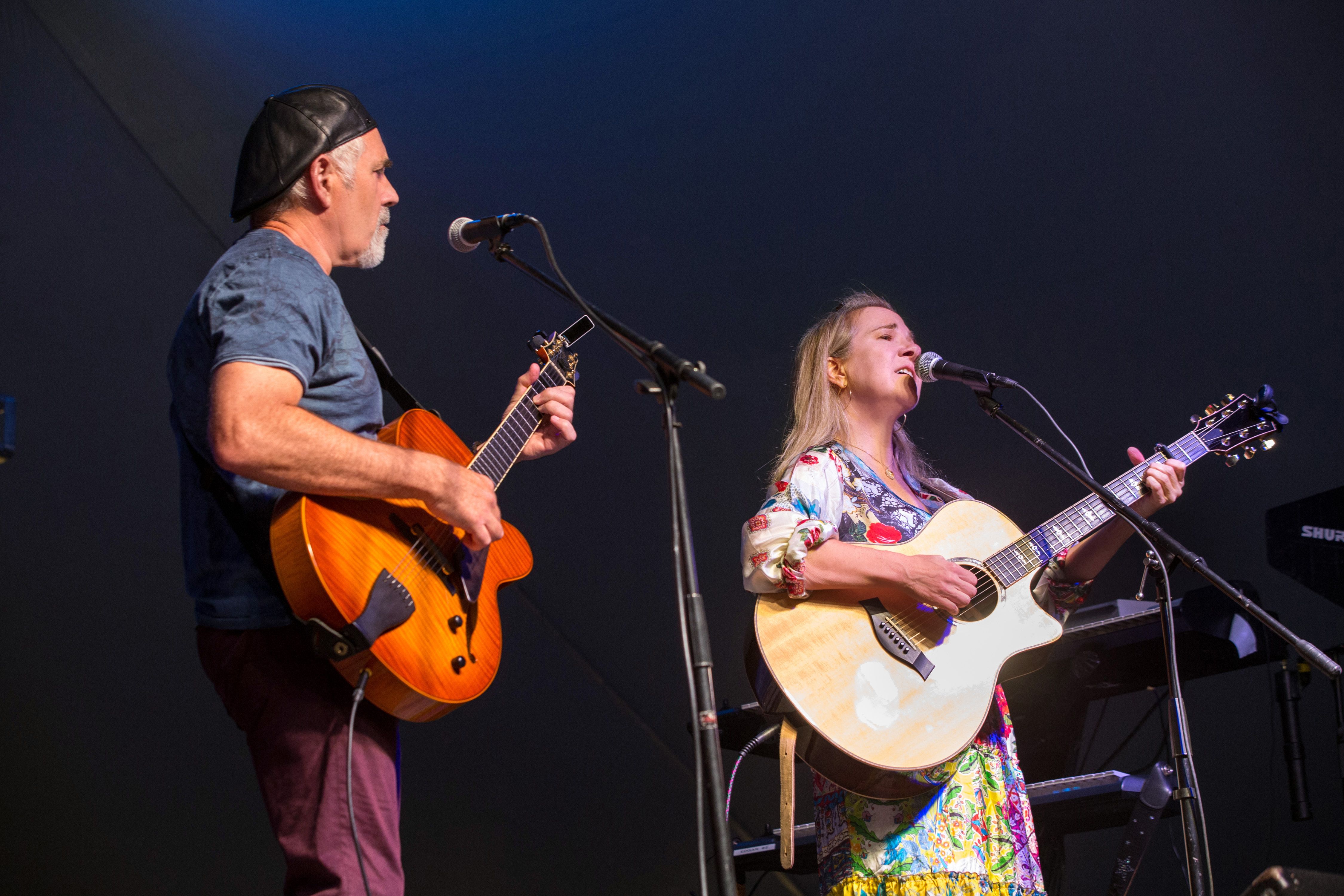 Married couple who met at Crown of the Continent Guitar Foundation workshop releases second album together.
BIGFORK – His crush on her began in music class. More specifically, it was jam-band class, taught by legendary blues and funk guitarist Dennis McCumber during the Crown of the Continent Guitar Foundation's week of workshops and performances. 
Dennis Kole had noticed Laurie Raveis the first day because she was one of two women in the 14-person class, but she didn't ping on his radar until the next day, when she took his chair. 
"It was a great class," Kole said, "and the next day, someone was sitting in 'my' chair. We played until the noon break for lunch, and we both stayed behind." 
There was a drum kit in the room, and Kole and Raveis traded off playing guitar and percussion, forming a little jam band of their own. 
"There was this spark," Kole said. 
"Afterward, he offered to carry my guitar case to lunch," Raveis said. 
The Crown of the Continent Guitar Foundation's week of workshops is already known worldwide for creating beautiful music, and it's also responsible for bringing Kole and Raveis together. The 2018 Crown of the Continent Guitar Foundation's festival series runs from Aug. 28 through Sept. 1, and Kole and Raveis make their return as emerging artists at the workshop. 
Five years after that fateful class, the couple has married and just recently released their second album together as the band Raveis Kole. The album, "Electric Blue Dandelion – Nashville Sessions," was released Aug. 24. 
The album is the culmination of years of phone calls, emails, plane trips, job transitions, and life changes. 
"It was just something that clicked between us," Kole said. 
When the pair met, Kole was living in Bellingham, Washington and working as a trial lawyer. Raveis made the trip to the COCGF workshop week from Boston, where she was working as an adjunct professor in marketing at Emerson College. 
They didn't even meet each other the first year they both attended the workshops, Kole said. But the afternoon they spent together turned into hanging out with each other all week, singing "Lean on Me" together with their voices a perfect two octaves apart. 
There's a magical feeling at the COCGF workshops, Kole said. People come from around the world to gather together in one of the most beautiful areas on Earth to teach and play and learn music, and this environment turns into one of support, positivity, and openness. The vulnerability of really trying something isn't a factor, because everyone feels it. 
"The energy around it is so positive and so supportive," Raveis said. "If we weren't given that openness in that environment, would we have been as open with each other?" 
There's a certain kind of intimacy in music, the couple said, and they found comfort and adventure making music together. 
After they left Bigfork to go back to their lives, Kole and Raveis stayed in touch. They started writing a song together over email, and emails turned into phone calls, and phone calls turned to butterflies in their stomachs. 
This led to trip after trip flying across the country to see each other; they said the distance threw their relationship into relief because it forced them to be very deliberate about how much and often they wanted to see each other. Raveis was already looking to transition full time into music, and had lived in Seattle before. 
She finished her term at Emerson and flew to Bellingham for six weeks with Kole. After that, they knew it was forever. She moved to Washington, where the couple was married three years ago. Now, they both pursue their music full time, using their respective marketing and legal backgrounds to help put out their first CD. 
Retuning to the COCGF festival as emerging artists is an honor for the couple, who will be attending workshops and performing throughout the week. Kole said he expects another week of openness and true sharing, as well as finding new guitarists to follow throughout their careers. 
Kole and Raveis agreed that they make better music together, and they credit the guitar workshop for helping them figure that out. 
"There's an expansiveness that quiets and calms your mind, and opens you up to be in touch with how you're feeling," Kole said. "That's great for music." 
For more information on the Crown of the Continent Guitar Foundation workshop and festival, including the public concert schedule, visit www.crownguitarfest.org.
Photo credit: michael roessmann