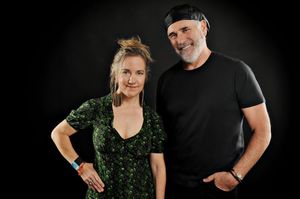 Laurie Raveis, Dennis Kole 
Bellingham, Wash. (July 1, 2018) ---- One of the most innovative and exciting artists on the music scene, Raveis Kole (pronounced Ray-viss Kole), will release their second album, "Electric Blue Dandelion – Nashville Sessions," on August 24, 2018.  The project has been recreated and remixed to give the new music a more organic, intimate sound that properly represents their Americana/Folk background. A brand-new song written by Laurie Raveis has been added to the line-up, "Into Me You See (Here & Now)," while "Thanksgiving (Feel Like Home)" gets a complete musical makeover. The project was produced by Nashville's Jeff Silverman (Allman Brothers, Prince, Rick Springfield), and features some of music city's top musicians. "Electric Blue Dandelion – Nashville Sessions" will be distributed to all digital and music store outlets. 
"We wanted to create a very organic, intimate and bold album to best represent our lyrics, music and who we are as artists.  We feel this record does that and more, as the songs are highly accessible with elements of the unexpected," explains Raveis Kole.  "Americana/Folk is evolving to become a powerful platform for this type of music, and we believe "Electric Blue Dandelion - Nashville Sessions" fits perfectly within this structure while remaining true to our vision of creating art in music." 
Raveis Kole musical style has been described as artistic, thoughtful and connecting, and with "Electric Blue Dandelion – Nashville Sessions" it spotlights Raveis' caramel smooth lead vocals and acoustic guitar rhythms against Kole's background vocals and fingerstyle guitar counterpoint.  "Into Me You See (Here & Now)," is a love song with insightful lyrics that describe how a connection develops through the acceptance of each other. I've shared all of me/My history and personality/Hey Babe, I laid it on the line/with courage so divine/ Oh, accept me exactly as I am/and I'll be the best person that I can/Hey Babe, you know it's true/I love you, I love you. 
Raveis Kole's first studio album, "Electric Blue Dandelion," brought the duo high profile chart support for the title track, No. 25, "Wicked Game," No. 17 and "Dawn Breaks Through," No. 18 on the Friday Morning Quarterback (FMQB) Adult Contemporary chart, and the title track also placed Top 10 at Radio Indie Alliance.  The "Electric Blue Dandelion" album was Top 20 at Roots Music Report, while "Fearless (All In) was nominated for Best Song, Americana/Folk/Acoustic by the Hollywood Music in Media Awards. 
At the same time, the record received critical acclaim with rave reviews from several outlets. "Such an amazing album," Stu Wright, WORG Radio; "melodies are so well written that they are instantly familiar," Grammy winner, White Sun; "These tracks are pure gold!, Way Out Radio (UK); "a retro-sounding blast of 1960's cool., Dennis Pilon Poprock  
Record. 
For more information about Raveis Kole please visit, www.raveiskole.com, www.facebook.com/RaveisKole, www.twitter.com/RaveisKole, https://www.instagram.com/raveiskole. 
### 
"Electric Blue Dandelion – Nashville Sessions" track listing: 
1.     "Aloha – (Nashville Sessions)" 
2.    "Into Me You See (Here & Now)" 
3.    "Electric Blue Dandelion – (Nashville Sessions)" 
4.    "Holding Onto a Rainbow – (Nashville Sessions)" 
5.    "Fearless (All In) – (Nashville Sessions)" 
6.    "Precipice Forgiveness (Flow is On) – (Nashville Sessions)" 
7.     "Thanksgiving (Feel Like Home) – (Nashville Sessions)" 
8.    "Dawn Breaks Through – (Nashville Sessions)" 
9.    "It Must Be Ok (We Starve) – (Nashville Sessions)" 
10.    "Wicked Game (feat. Eljai) – (Nashville