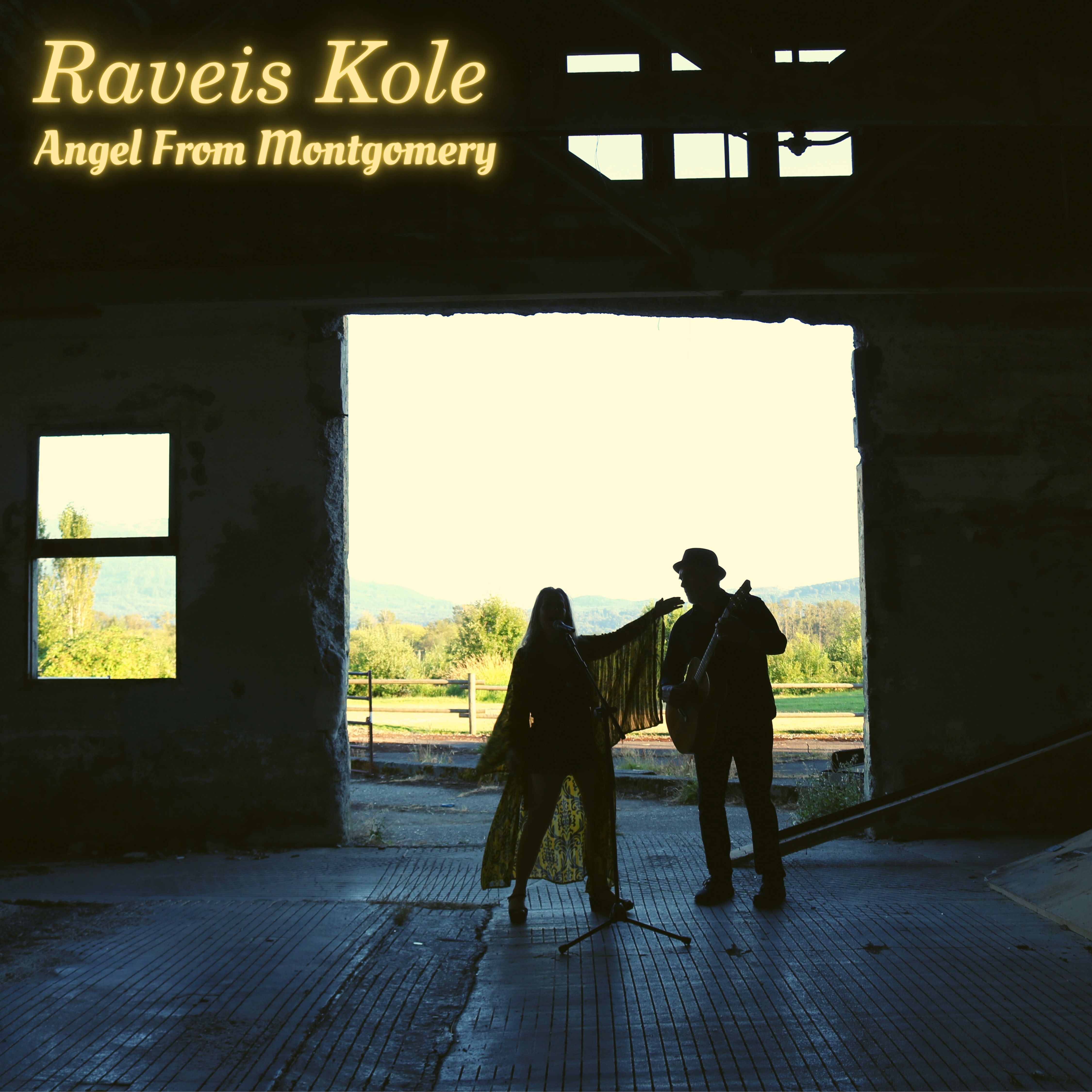 Can you imagine how Michelangelo felt when he unveiled the statue of David? I'm thinking that he must have felt very excited and that's how Laurie and I are feeling as we get ready to release our cover of "Angel From Montgomery" with you. 
In our last blog we talked about the story behind the song, so today we'd like to share our artistic journey in creating and recording our interpretation of this iconic classic. The story begins many months ago: In November 2013 I was in Bellingham and I had been listening to Bonnie Raitt's version of "Angel From Montgomery." I emailed Laurie, who was in Boston, that this song would be in her vocal wheelhouse and that we could potentially do this song together. Laurie's response: "I love that song and I can sing it!" 
As we began performing together as Raveis Kole, our two favorite songs to cover were John Prine's "Angel From Montgomery" and Chris Isaak's "Wicked Game." On our debut album, Electric Blue Dandelion, we recorded a cover of "Wicked Game" and saved the idea of recording a cover of "Angel From Montgomery" for a future project. It is commonly said that "good things come to those who wait" and this has proved to be true for us. 
When Laurie and I want to cover a song our initial goal is to be able to play it as it was written and/or performed by someone else. Once we can do this, our goal shifts to how we can add something of our own creative vision to the song to both honor the original while also making it our own. In this case, our creative vision including rhythmic and tempo changes, additional vocal elements and scats, and a shift of emphasis towards a theme of transformation as compared to disillusionment and escape. 
Our interpretation of "Angel" began by establishing the desired key and rhythm for the song. Getting the right key for the vocals is critical, and some keys are also more "guitar friendly" than others.  For us, the rhythm or pulse of a song serves as its heartbeat and the mood and feelings which are engendered by the song are strongly linked to its rhythmic pulse. John Prine's original score was written in the Key of G and indicated a "slow" tempo of 63. After experimenting with alternatives, we ultimately decided that our version sounded the best in the Key of D and at a felt 16th note tempo of 144 bpm (basically 20% faster than the original). 
Next up was to explore alternate tunings on the guitar. Guitar tunings are based upon what pitches or notes are assigned to each of the open (unfretted) strings of the instrument. When you change the tuning of the instrument, you change the way it sounds. You also change the way you play, such as how chords are voiced, and songs composed or arranged in alternate tunings tend to sound different than they do in standard tuning. For "Angel" we started with a Double Drop D tuning – wherein the lowest and highest sounding strings are each dropped 1 full step from "E" to "D". This tuning tends to sound a bit open and Celtic in nature. We then worked to figure out various possibilities for voicing the chords. When you utilize different voicings of the same chord you impart a sense of ongoing motion and variation even though the underlying chords nominally remain the same. Different chord voicings also physically lend themselves to different embellishments based upon the physical position of your fretting hand and fingers. 
Once the initial acoustic guitar arrangement was worked out, we recorded a "scratch" guitar track and "scratch" lead vocal track which established the basic structure for the song. We sent these to Jeff Silverman, our co-producer in Nashville, in preparation for adding the drums and bass parts.  Laurie and I had already planned to attend AMERICANAFEST 2019, so we scheduled our Nashville studio time to occur while we were already there. Once there, we were initially joined in the studio by two good friends and stellar musicians: Matthew Burgess, aka "the Percussionator," and Brian "Bassbri" Hinchliffe, bassist extraordinaire as well as my Sadowsky (guitar) brother. 
Listening to a rhythm section coming together reminds me of making pottery: you shape a few vessels on the wheel, add some glaze, toss it all in the kiln and – when it comes out – magic has happened! You can't say precisely when the rough clay becomes art, but you know it when you see it or, in our case, when you hear it! 
One of our favorite rhythm parts is in the rhythmic transition following the end of the third verse where we segue into a New Orleans funk/parade style groove into the outro. Indeed, this transition gave us the conceptual impetus to bring in the stellar "take me to the church" background vocals provided by Kim Fleming, Gale Mayes-Stuart and Kim Monte, and arranged by Kim Fleming. As we listened to the power, precision and passion of their beautiful voices blending together in sublime harmony, Laurie and I could feel the song coming together and evolving in a way that transcended our expectations. 
As we returned home to Bellingham, we now had a well-fleshed out song but was it as good as it could be or was there work left to be done? The tracks that we now had sounded terrific together so our challenge became should we dare to add more and, if so, what? 
From the outset, Laurie had envisioned adding mandolin to the mix for "Angel." In our home studio we have a vintage Gibson mandolin that is from the 1920's and it has a beautiful rich tone that was perfect for the song.  Laurie went into the studio and began working up a mandolin part as she listened to the existing tracks. I auditioned several alternative instruments for my part and I was initially inclined to add in a vintage dobro (resonator), but Laurie asked me to see what I could come up with using my Nechville Meteor banjo. I hadn't really played banjo much since I was a teenager, but I was willing to give it a try. After Laurie had laid down her mandolin lines, I worked on creating banjo lines that would fit in with her mandolin and the other existing tracks. My two favorite parts from this are where Laurie mimics the sound of "flies buzzin'" on the mandolin and, later, when I put in a rolling banjo figure in the outro. 
It was now time to revisit our initial "scratch" tracks. My scratch acoustic guitar track had been laid down in our studio with my acoustic McPherson guitar: a stellar and unique instrument featuring a cantilevered neck and an offset soundhole, which together serve to enhance the sound and tone of the guitar. This part still sounded great and any necessary adjustments could be handled in the mixing process. 

While Laurie's scratch lead vocal still sounded great, it now needed to evolve in response to the "take me to the church" background vocals which had been added in Nashville. This challenge became an opportunity for Laurie as she chose to lay down a new vocal track that now included her vocal scats and embellishments in the extended outro after the third verse. It can be hard to capture the energy and dynamic energy of a live vocal performance when singing in the studio, but Laurie did so brilliantly and the energy and in the moment feel of her lead vocal now shone through to the thrilling conclusion of the song.   
Everything then went back to Nashville for Jeff to do the final mixing and mastering. As we began to move through this process Jeff called with an interesting proposal. Jeff must have been prescient as he previously (pre COVID-19) researched and developed the ability to allow clients and session musicians to also record in "virtual" studio sessions. Needless to say, the recent pandemic has made "virtual" studio sessions both a hot topic and a new normal. Jeff was in the process of setting up a virtual recording session with noted accordion player Jeff Taylor (Vince Gill, The Time Jumpers, etc.) and asked if we wanted to consider adding an accordion track to "Angel" since it would be an easy add-on to the existing, scheduled recording session. We had previously worked with Jeff Taylor on Electric Blue Dandelion – Nashville Sessions and we "jumped" at the chance for this.  Jeff Taylor's accordion track became the final track added to the project and helped to integrate the various musical elements into a cohesive blend where the whole became greater than the sum of its parts. 
"Angel From Montgomery" was released almost 50 years ago and remains one of the most iconic songs in the Contemporary Folk, Country, and Americana genres. The Grammy Award for Best American Roots Performance was first presented in 2015. According to the Recording Academy, the award encompasses all of the subgenres of the American Roots category field, which include Americana, bluegrass, blues, folk and other forms of regional roots music. The category is open for solo artists, duos, groups and other collaborations and is for singles or tracks only. The Grammy is awarded to the performer(s) of the winning recording. 
We are beyond thrilled to announce that our cover of "Angel From Montgomery" has been submitted for consideration for Best American Roots Performance in the upcoming Grammy Awards.  

The song releases on Amazon Music, Apple Music, Spotify and all digital platforms and the music video premeires on American Blues Scene on August 28th, Friday. www.raveiskole.com/stream-links