When Life Gives You Lemons Check To See If You Can Upgrade To a Box of Chocolates! 
Reprinted from Far-West Website: www.far-west.org 
LOCKDOWN LEMONADE - Written by Dennis Kole (Raveis Kole Duo) 
WHEN LIFE GIVES YOU LEMONS…CHECK TO SEE IF YOU CAN UPGRADE TO A BOX OF CHOCOLATES!!!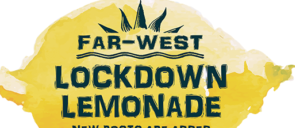 In 1651 English philosopher Thomas Hobbes wrote a masterpiece of political philosophy, Leviathan, in which he opined that the natural life of man was: "[S]olitary, poor, nasty, brutish and short." It is interesting to consider the similarities between life in England in the 1650's and the current events of today. When Leviathan was written England had just passed through a period of civil war and was soon to become embroiled in the Great Plague of London (1665-1666), the last major epidemic of the bubonic plague to occur in England. Sounds familiar, right?! In many ways the dour pessimism of Hobbes could also have served as a headline for some of the more strident editorial opinion pieces written during the past year! 
Fortunately, Laurie and I are neither political philosophers nor pessimists, and our day-to-day routine during lockdown might be said to resemble Bill Murray's 1993 comedic hit Groundhog Day – which has developed as a popular culture reference used to describe a monotonous, frustrating, repetitive situation and, as in Groundhog Day, our day-to-day experiences have also provided numerous occasions of comedic relief. 
Examples? Thursday is now the most significant day of the week for us because that is the day when we have to remember to leave the house to set out the garbage and recycling for collection. We now know that the zoom call app provides an option to "enhance" your appearance, and we have also learned how to use it to add the impression of a healthy outdoor glow to our visage despite the actual seasonal pallor of our skin. Sorting laundry has now devolved into a simple dichotomy: loads of cotton T-shirts, sweats and jammies, and loads of non-cotton T-shirts, sweats and jammies; while long pants and shoes have become the type of "clothing optional" choice once reserved for remote seaside beaches and seedy resorts. 
Within this bubble of solitude, music has remained a panacea that connects, inspires, soothes and challenges us during this period of reluctant isolation. Playing music helps us to connect our physical senses and emotional feelings with our left-brained cognitive thoughts and verbal expression. As music both arouses and expresses emotion, it provides us with both the tension and release that is the hallmark of a good joke or a well told story. 
The current winter season in the PNW often seems to stretch out with a dull grey monotony that must be well familiar to long distance ocean voyagers and/or artic explorers. More hopefully, the recent return of crocuses and daffodils to our yard provides a welcome harbinger of warmer and brighter days ahead. During the past year frequent visits from the local deer population on their daily peregrinations have been our primary source of social contact and, while they have been unwilling to "mask up," they have at least been quite diligent in observing social distancing. 
While we have been patiently waiting for the arrival of "the prick of life," otherwise known as vaccinations, we have been productively writing new songs and/or working on song arrangements. Laurie has been formally studying music production through an online program offered by the Boston based Berklee School of Music while I have been delving into the world of songwriting and pop music through an online class offered by Ryan Tedder. As a young person, "sampling" was something that I enjoyed doing at the local Baskin – Robbins ice cream parlor. I have now discovered that "sampling" has become a brave new world where the genetic material of music can be sliced, diced and repurposed, like the bits and pieces in Dr. Frankenstein's laboratory, to create whole new forms of musical life! 
Virtual recording sessions and long-distance learning have helped to keep us in touch and connected, even as our cars have metamorphosed from utilitarian methods of transportation to become archaic yard ornaments akin to mid-century modern oversized pink flamingos. 
The apocryphal Chinese curse: "May you live in interesting times" is likely to be an apt description of our collective journey out of lockdown. For Laurie and me, music has been and will continue to be our collaborator, friend and ally on this epic journey! 
Dennis Kole is part of the musical duo, Raveis Kole, with his wife, Laurie Raveis.  Raveis Kole is an eclectic, acoustic based Americana/Indie Folk/Singer Songwriter duo that blends Southern California freedom, Middle Eastern mystery, European panache, and a gypsy's adventurous spirit. From a bicoastal base in Bellingham Washington and Boston Massachusetts, Laurie Raveis and Dennis Kole have performed all over the US as well as in the UK and Canada, and are Billboard charting artists who have opened for Cory Henry, the Edgar Winter Band, and the Wailers.  Their recent album debuted on Billboard Heatseekers Chart at #11, spinning on 170+ radio stations across 13 countries and 5 continents, and the duo is a 3x Hollywood Music in Media Award Nominee. 
Link to Article on Far-West Website: 
https://far-west.org/lockdownlemonade26bydenniskole/